Seven suspects were arrested in connection with the Easter Sunday bomb attacks on eight churches and hotels in Sri Lanka that left more than 200 dead and hundreds more injured, the country's defense minister said.
Three police were killed during the raids on a house in Colombo on Sunday afternoon after the government announced it would imposed a country-wide curfew and suspended social media.
By the early evening the death toll had reached 207, with 450 people injured.
The curfew will begin on Sunday night at 6 p.m. local time (1230 GMT) and run until 6 a.m. local time (0030 GMT), the Sri Lankan defense ministry said.
Access to major social media platforms and messaging services were suspended temporarily by the Sri Lankan government.
Police spokesman Ruwan Gunasekera said the seventh blast hit a hotel in the southern Colombo suburb of Dehiwala, killing two people.
Now reports are beginning come from Sri Lanka of the moments leading up to the attacks.
In one case a suicide bomber waited patiently in a queue for the Easter Sunday breakfast buffet at Sri Lanka's Cinnamon Grand hotel before setting off explosives strapped to his back.
Carrying a plate, the man, who had registered at the hotel the night before as Mohamed Azzam Mohamed, was just about to be served when he set off his devastating strike in the packed restaurant, a manager at the Sri Lankan hotel said.
"There was utter chaos," said the manager.
The Taprobane restaurant at the hotel was having one of its busiest days of the year for the Easter holiday weekend.
"It was 8:30 a.m. and it was busy. It was families," the manager added.
"He came up to the top of the queue and set off the blast," he added.
"One of our managers who was welcoming guests was among those killed instantly."
The bomber also died. Parts of his body were found intact by police and taken away.
Other hotel officials told how the bomber, a Sri Lankan, checked in giving an address that turned out to be false, saying he was in the city for business.
Two other hotels, the Shangri-La and the Kingsbury, were hit at about the same time, along with three churches packed with worshippers attending Easter Sunday services.
The blast at St Anthony's Shrine, an historic Catholic Church, was so powerful that it blew out much of the roof, leaving roof tiles, glass and splintered wood littering the floor that was strewn with bodies.
A hospital source said Americans, British and Dutch citizens were among those killed in the blasts.
Sri Lanka's Prime Minister Ranil Wickremesinghe condemned the blasts as "cowardly" and said the government was working to "contain the situation."
World leaders have also expressed solidarity with Sri Lanka, condemning the terrorist attacks.
The public has been told to excercise caution in the following days.
I strongly condemn the cowardly attacks on our people today. I call upon all Sri Lankans during this tragic time to remain united and strong. Please avoid propagating unverified reports and speculation. The government is taking immediate steps to contain this situation.
2,057 people are talking about this
As the attacks were happening news broke that the country's police chief had made a nationwide alert 10 days before the attacks that suicide bombers had planned to hit "prominent churches," according to a document seen by AFP.
Police chief Pujuth Jayasundara sent an intelligence warning to top officers on April 11 setting out the threat.
"A foreign intelligence agency has reported that the NTJ (National Thowheeth Jama'ath) is planning to carry out suicide attacks targeting prominent churches as well as the Indian high commission in Colombo," said the alert.
The NTJ is a radical Muslim group in Sri Lanka that came to notice last year when it was linked to the vandalization of Buddhist statues.
A police official, speaking on condition of anonymity, said at least 42 people were killed in Colombo, where three hotels and a church were hit.
#BREAKING 52 Dead,300 injured in multiple blasts in Sri Lanka's churches, hotels. Total 6 blasts including three churches and three hotels in and around the Sri Lankan capital of Colombo#SriLanka #SriLankaBlasts #Colombo
The first explosions were reported at St. Anthony's Shrine — a church in Colombo — and St. Sebastian's Church in the town of Negombo just outside the capital. Dozens of people injured in the St. Anthony's blast flooded into the Colombo National Hospital by mid-morning, an official told AFP.
"A bomb attack to our church, please come and help if your family members are there," read a post in English on the Facebook page of the St. Sebastian's Church at Katuwapitiya in Negombo.
Shortly after those blasts were reported, police confirmed three hotels in the capital had also been hit, along with a church in Batticaloa.
An official at one of the hotels, the Cinnamon Grand Hotel near the prime minister's official residence in Colombo, told AFP that the blast had ripped through the hotel restaurant. He said at least one person had been killed in the blast.
An official at the Batticaloa hospital told AFP more than 300 people had been admitted with injuries following the blast there.
"Emergency meeting called in a few minutes. Rescue operations underway," Sri Lanka's Minister of Economic Reforms and Public Distribution, Harsha de Silva, said in a tweet on his verified account.
He said he had been to two of the attacked hotels and was at the scene at St. Anthony's Shrine, and described "horrible scenes." "I saw many body parts strewn all over," he tweeted, adding that there were "many casualties including foreigners."
"Please stay calm and indoors," he added. Photos circulating on social media showed the roof of one church had been almost blown off in the blast.
The floor was littered with a mixture of roof tiles, splintered wood and blood. Several people could be seen covered in blood, with some trying to help those with more serious injuries. The images could not immediately be verified.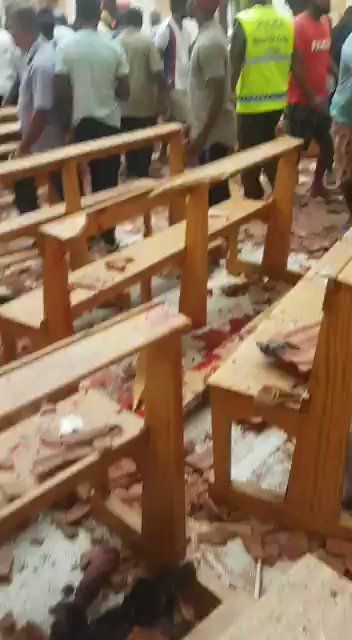 Dozens killed, hundreds injured in #SriLanka attack
28 people are talking about this
Only around six percent of mainly Buddhist Sri Lanka is Catholic, but the religion is seen as a unifying force because it includes people from both the Tamil and majority Sinhalese ethnic groups.